Follow-up on scalper performance at JadeFX
Quick update on the performance on my main scalper account at JadeFX during August. I've previously posted about the excellent results during July. August was also good, but I had one day that basically all trades went to stoploss for a negative hit of 551 pips or about 15% of the account (which also corresponded to my risk-appetite right then). It was inevitable to happen of course, and it will happen again. I didn't change any settings after the "crash" and the losses was made up the coming 10 trading days. Excellent.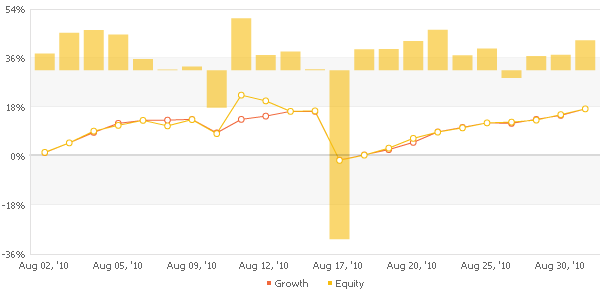 Other than the massive losing day (17th of August) I had two more days with negative pips. Overall the account made 742 pips which amounted to 18%. I am very pleased with that, considering that the maximum loss scenario was realized.
Going forward I have changed the setup a little. During July and August I have been experimenting somewhat by running three different setups of the main moneymaker EA here. Now it is clear which setup I will use going forward. It is very stable (if I had only used that one on the 17th the drawdown would have been much smaller).
I have also introduced a new EA from the Funyoo forum on my live account on the 1st of September that I've been optimizing with Dukascopy tickdata. I've been trading it with great results on demo for the past two weeks, and so far it seems as good on my live account (only had two trading days yet, but the trades are identical with demo trades taken).