Really bad start of the Year
It was of course inevitable, there had to be a loosing month sometime. January started of rather bad (like December ended), picked up a little and then fell through on the 24-25th. And then some more yesterday the 31st. So for a total loss of 14.53% it ended rather badly.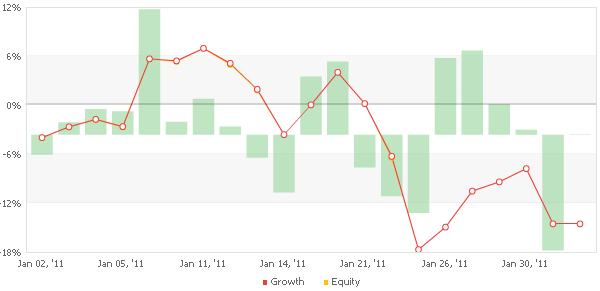 It is trades in EURGBP, the main currency traded that have been bad, and mostly then by The Channel Scalper. Other EAs have been small winners, with the exception of XBars MA Scalper trading GBPUSD that ended a small loser with 3 wins and 1 loss (and the ratio between TP and SL is just over 3).
When I've been looking at the performance day to day I can't but see that there is some portion of "bad luck" involved here, or at least bad settings.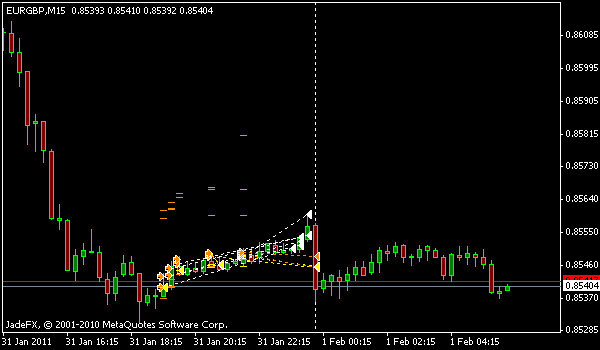 This picture is from yesterdays session. First off we can see of course that it started trading a little too early. The market was drifting upwards the entire session though, so the trades should have been taken "badly" either way. The really unlucky part is in the timeout value of 4 hours thou, when if 4h30min would have been used instead all trades would have taken profit instead of closing for about three times the TP in losses. Three positions survived the peak and took profit here. One EA, trading with a experimental SL of just 11, just exactly hit that before the reversal.
4 hours instead of 4,5 is a little better in backtests thou, so I will stick with it. Hopefully the Market will behave more like I expect it the coming month.
There have been even some more bad news for this account thou, as JadeFX have announced a 33% increase in commission for GBP based pairs. As 85% or so of my trading on the account is in EURGBP and a few more percent is GBPUSD this is really bad news. The commission on these will be $8/lot starting February 14th. Perhaps it is time to look at some of the alternative brokers, which are quite few, but perhaps worthy of testing out either way. FinFX is a ECN broker that I've been demotrading with successfully. They have about the same spread as JadeFX and they will after this change have lower commission. A HotForex Currenex account is another possibility, this one has the advantage of requiring just $500 to start out live testing with.
But I really like JadeFX and the setup I have there with their ultra low latency VPS. We'll see, I won't make any hasty decisions.