GoMarkets AUS, the best broker around?
I've been hearing a lot of different suggestions about the best brokers for the Year I've been involved in automated Forex trading (It's only been a year? Really? My memory plays tricks on me it seems). GoMarket AUS have always been suggested by some, but I never got around to actually test it in any serious way. I have now and I will start a live account there. On paper and in demo trading it is nothing short of awesome.
GoMarkets AUS constantly have among the best spreads on basically all pairs (Majors and Exotics, especially ones with AUD involved). If you go to MT4Spreads and check out for example EURUSD you'll likely see something like this.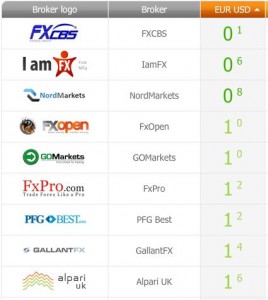 What is important to understand then is that GoMarkets doesn't take commission when trading. All the other brokers on that list, except Alpari UK, does. That means that even thou IamFX for example has a tighter spread you will have to pay them to trade it, and in that case it equates to almost 1 full pip in commission cost. The price is roughly the same for all the others.
Another important thing is that if you choose to sign up via CashbackForex you will get 0.35 pips back, effectively making the spread right now a very low 0.65! You can get cashback on other brokers via CashbackForex as well, but my research show that none comes close to the effective spreads offered by GoMarkets when commission and cashback is applied. They even beat my low commission favorite JadeFX.
There are three additional points that really make GoMarkets AUS stand out I think:
Possibility to have Swap-free account (fee is payed instead). Excellent for grid and longer term traders.
Possibility to open Nano-account making it possible to trade very small lots (0.01 of $10K lot, IE just $100)
Proper regulated company in Australia
My main problem is that I already have four active live accounts, and I don't want to add additional funds to new ones right now. But I hope that I can force myself to withdraw funds somewhere and wire it down under.
So, head over to CashbackForex and signup for GoMarkets AUS. It's real easy.