New big drawdown by GridBot
So, when I went to bed yesterday (at about midnight GMT+2) my live FX account where I run all my little bots at had about €810 equity. It had made some nice profits during the evening, most notably six profitable trades in GBPJPY and USDJPY by the GridBot EA. When I woke up this morning and saw my balance as €616 I was kinda surprised. Seems the markets turned at about 1 am GMT+2 and the GridBot opened three positions in both GBPJPY and USDJPY against the trend raking in losses for €187 in the process.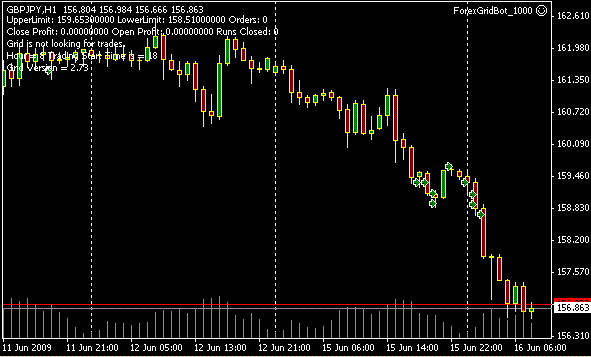 Exactly this behaviour is why the GridBot is dangerous. It keeps adding fuel to the fire if there is a trend. If that trend doesn't reverse during the grids working hours, we are in for big losses. If it does reverse we are in for small profits. The risk vs reward just isn't good enough when there's such a strong move like that last night.
The developers of GridBot have stated long ago that they have a hedging implementation, but they haven't released it yet. We don't know the details of this implementation. I would like the bot to open a inverse position when the market moves outside the grid. If the price reverses the hedge position will close breakeven and the grid can take profits. If it doesn't we just take the loss that have been incurred inside the grid, the hedge will protect the movement outside.
So basically I am tired of this bot screwing up my account. FAP Turbo, MegaDroid and even FD2 is doing much better right now. I'm thinking about placing GridBot in suspension, only to trade demo until there is another release, which include the hedging implementation. But I'll give it one last chance. I'm changing the working hours to 18 - 1 GMT+2 (Alpari UK account time). This is the time slot from one hour after London close right up to Tokyo opening. I'm also lowering the lot size. GBPJPY will only get 0.03 lots from now.
If they don't release the update soon, I'll go for a refund…