Rather nice December at JadeFX
Update of my JadeFX accounts scalping performance under December. Prior years I have shut down EAs in early to mid December, but this year I decided to trade almost as usual. I ran quite a few backtests using Dukascopy tickdata and concluded that it wasn't riskier to trade this month than any other (with my strategies that is, others might perform differently). Up until December 16th I thought I had made a excellent decision with a gain of 30% during the month, but that day and the also the following I lost about 17% of the account and was down at 7% gained during December. The latter half of the month added a little pips here and there and ended up at 12.53% gained.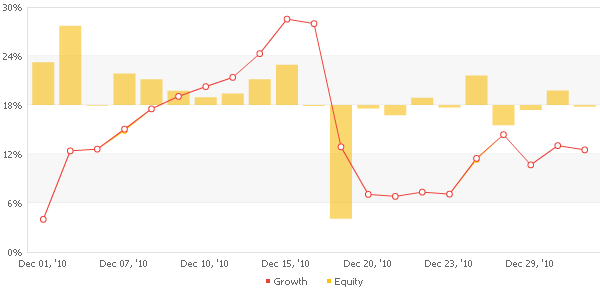 December performance at JadeFX
The biggest losses came from XBars MA Scalper trading GBPUSD and RSI MA Scalper trading EURUSD. A version of settings for The Channel Scalper trading EURGBP also got hit hard. Prices was trending significantly during the normal quiet Asian market. Going forward I have made adjustments that I hope will reduce drawdown like this without penalizing profit taking during periods when prices are range bound during my trading hours.